Opentribe WPF Components
Time to times, I have to create some specific components for my programs. The standard components provide by microsoft are great but some usual control are missing.
The WPF Opentribe components is a dll components which provide you standard and usefull components.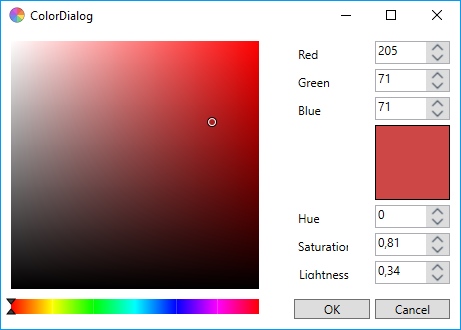 Color picker
The color picker dialog is a full WPF dialog picker which help you to select colors in your applications.
It manage RGB and HSL colors with simple properties.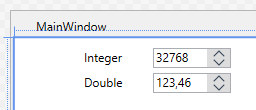 Numeric text box
You can enter numbers in the numeric text box. Integers values and double values are managed by the control. Click on the buttons to increase or decrease the value.

You can access to the Opentribe WPF components nuget package.
Opentribe WPF components are under
Freeware license (you can use it in your non commercial programs)
Commercial licence (contact us for a commercial version of Opentribe WPF Components)
License
license Agreement
Copyright (C) 2017 Opentribe.
All rights reserved.
IMPORTANT: PLEASE READ THIS AGREEMENT CAREFULLY BEFORE USING THE software.
Software requirements: Microsoft Windows Seven/8/8.1/10 with all recent updates installed
END USER LICENSE AGREEMENT (EULA)
This End-user license Agreement ("EULA") is a legal agreement between you (either an individual or a single entity) and Opentribe for Screen grabber software that accompanies this EULA, which includes computer software and may include associated media, printed materials, "online" or electronic documentation, and Internet-based services ("software").
Opentribe agrees to provide you, "the user" with a copy of this software product ("software"), and grants the user a limited, individual, personal, nonexclusive license to use the software. This license Agreement ("license") defines what the user may do with the software, and contains limitations on warranties, liabilities and remedies. This license may be revoked by Opentribe at any time without notice if the user fails to comply with the terms of this license. The copyright and all other rights in the software shall remain with Opentribe.
1- LICENSE
This edition of software is a FREEWARE and may be used by the user for any legal purposes for an unlimited period on unlimited number of computers without any restrictions. The edition of software is fully functional and does NOT contain any ADWARE or SPYWARE.
2- DISTRIBUTION OF SOFTWARE
The edition of software may be freely copied and freely distributed to other users without any restrictions.
3- DISCLAIMER OF WARRANTY AND LIABILITY
THE SOFTWARE AND THE ACCOMPANYING FILES ARE PROVIDED "AS IS" WITHOUT WARRANTY OF ANY KIND. TO THE MAXIMUM EXTENT PERMITTED BY APPLICABLE LAW, OPENTRIBE DISCLAIMS ALL WARRANTIES, EXPRESSED OR IMPLIED, INCLUDING, BUT NOT LIMITED TO, ANY IMPLIED WARRANTIES OF PERFORMANCE, MERCHANTABILITY, FITNESS FOR A PARTICULAR PURPOSE, AND NONINFRINGEMENT. TO THE MAXIMUM EXTENT PERMITTED BY APPLICABLE LAW, IN NO EVENT SHALL OPENTRIBE BE LIABLE FOR ANY DIRECT, INDIRECT, CONSEQUENTIAL OR INCIDENTAL DAMAGES (INCLUDING, BUT NOT LIMITED TO, DAMAGES FOR LOSS OF BUSINESS PROFITS, BUSINESS INTERRUPTION OR LOSS OF BUSINESS INFORMATION) ARISING OUT OF THE USE OF OR INABILITY TO USE THE SOFTWARE EVEN IF OPENTRIBE HAS BEEN ADVISED OF THE POSSIBILITY OF SUCH DAMAGES.
3-1 OTHER RESTRICTIONS
The user may not rent, lease, sublicense and translate the software.The user may not provide commercial services with the software. The user may not disassemble, reverse engineer, or de-compile the software, or modify or merge the software with any part of the software in another program except and only to the extent that such activity is expressly permitted by applicable law notwithstanding this limitation.. This license may not be assigned or otherwise transferred without the prior written consent of Opentribe.The user is not allowed to remove Copyrights marks on the software.
4- ACCEPTANCE OF THIS LICENSE AGREEMENT
By downloading and/or installing this software, the user agrees to the terms of this license.
If you do not agree with this item, please don't install and/or use the software.
5- TERM OF LICENSE
This license shall continue for as long as the user uses the registered software and/or distributes the unregistered software according to the terms of this agreement. However, this license will terminate if the user fails to comply with any of its terms or conditions. The user agrees, upon termination, to destroy all copies of the registered and/or unregistered software. The limitations of warranties and liability set forth in this license shall continue in force even after termination.
6- INVALID PROVISIONS
If any provision of this license shall be declared invalid or unenforceable, the remaining provisions of this license shall remain in full force and effect to the fullest extent permitted by law. In such event, each provision of this license which is invalid or unenforceable shall be replaced with a provision as similar in terms to such invalid or unenforceable provision as may be possible which is legal and enforceable.
7- ENTIRE AGREEMENT
This license is the entire agreement between Opentribe and the user, and supersedes any other agreement, oral or written, and may not be changed except by a written signed agreement.
8- APPLICABLE LAW
If you acquired this Software in the European Union, Iceland, Norway, or Switzerland, then french law applies. If you acquired this Software in any other country, then local law may apply.